---
View to see condition: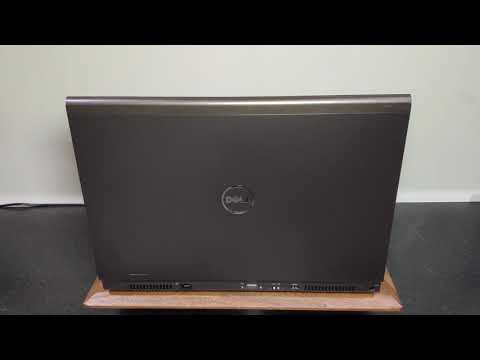 Refurbished Dell Precision M4800 2.5Ghz core i5-4200M Laptop 4 GB Ram 15.6" win10 500 GB hdd - YouTube
Dell Precision M4800
Excellent design, highest performance
Features:
processor Intel Core i5-4200M
8GB DDR3 RAM
NVIDIA Quadro K1100M 2GB graphics card
Drive 500GB hdd
15.6 "Full HD matt matrix
Windows 10 Professional operating system
Dell Precision M4800 belongs to the ultra-efficient and extremely resistant series of mobile workstations. Innovative design subjected to murderous military tests; optimization for professional software (ISV); Long battery life (in this case battery is used is not guaranteed to hold charge, but has been tested working and holding charge for your information) and advanced technologies related to data security make Dell Precision set the highest standard.
Intel class performance
Intel Core i5 processors are the perfect solution for home and business. Regardless of whether you create, edit or share multimedia materials, or indulge in virtual entertainment in your favourite titles, technologically advanced Core i5 will guarantee the best speed and dynamics for your needs. With the support of reliable DDR3 RAM memory, the notebook offers smooth system operation and quick application launch.
Professional NVIDIA Quadro graphics card
The notebook is equipped with a professional NVIDIA Quadro graphics card, better interaction during design work with the most complex models, richer scene details and effects in the created content and faster results when processing extensive data sets in scientific research. The Kepler architecture uses a number of innovative features, including SMX for greater throughput per clock cycle during key graphics operations, and the bindless textures technique that allows the GPU to refer to textures directly from memory. In addition, the card provides support for up to four displays - which is great for solutions for large-scale visualizations.


Stunning image
Thanks to Full HD resolution and matte matrix coating, the notebook enjoys perfectly reproduced colors and detail of displayed effects in all lighting conditions.
Instant connectivity
Use the resources of the virtual world wherever you are! Thanks to the 802.11 b / g / n Wi-Fi module and Bluetooth technology, the notebook is extremely efficiently connecting to the Internet and your favorite devices.
ISV certificates
To meet the requirements of professional users, the laptop has been subjected to rigorous testing by many of the leading software providers such as Autodesk, Adobe. The ISV certificate thus confirms the reliability of operation and compatibility of the equipment with the software.
Unmatched durability
Made of magnesium alloy and aluminum, the housing perfectly protects the equipment against damage, while giving it a unique and stylish character. Your laptop will look like new for a long time.
Battle tested
The notebook is one of the hardest models ever created. Tested by almost a dozen separate military tests - all in extreme conditions with dust, vibration, heat, cold, altitude, water and moisture - it has been designed to survive in all outdoor conditions.
Intel vPro technology
It makes management at the enterprise level easier and more economical. Manage, protect, repair or locate used laptops wherever you are.
Backlit keyboard
Keep working comfort in low light or play until late at night thanks to the comfortable backlit keyboard!


A wide range of ports
You can connect almost any accessory to your laptop: for example, an external drive or smartphone via a fast USB 3.0 connector, or an additional monitor or projector via HDMI, DisplayPort or VGA port. Connect whatever you want and enjoy!
Windows 10 Professional
The new Windows system combines the best features of its predecessors with a number of innovative improvements to support you and your business: from even smoother operation, through data encryption with BitLocker and the new Microsoft Edge browser, to Hyper-V - the advanced remote login function and creating virtual machines. You will achieve more with Windows 10!
Specification
Processor model: Intel Core i5-4200M
Number of processor cores: 2
Number of CPU threads: 4
Processor base clock (GHz): 2.5
Maximum processor clock speed (GHz): 3.1
Processor cache (MB): 3
RAM memory size: 4 GB
RAM type: DDR3
Memory clock frequency (MHz): 1600
Type of graphics card: Dedicated graphics
Graphics card model: NVIDIA Quadro K1100M
Graphics card memory: 2 GB
Hard disk type: hdd
Disk capacity (GB): 500
Matrix size: 15 "- 15.9"
Resolution (pixels): 1920 x 1080
Matrix coating: matte
Touch screen: no
Operating system: Windows 10 Professional
Drive type: DVD RW
Connectors: USB 2.0 | USB 3.0 | HDMI | D-Sub (VGA) | DisplayPort | eSata | RJ-45 | docking station connector | SmartCard | ExpressCard | Kensington Lock 
Multimedia: memory card reader | speakers | microphone
Communication: Wi-Fi | Wi-Fi 802.11 b / g / n | Bluetooth | LAN 10/100/1000 Mbps WAN Mini Port
Controls: keyboard | touchpad | numeric keyboard | backlit keyboard | trackpoint
Type: reinforced
Material: metal
Color: shades of black
Product width (cm): 37.6
Product depth (cm): 25.6
Product height (cm): 3.67
Product weight (kg): 2.88